I've been spending a considerable amount of time since the Weiner fiasco trying to figure out whether it's the media or its consumers who are to blame for the dominance of nonsense and the absence of wonk in the press. While, yes, the media presents a lot of crap, it does so because the people demand it, and if the people didn't demand it, it's less likely the media would run with it.
Here's a strong example of readers popularizing something that, while tragic, doesn't deserve its place as the most popular item in the Huffington Post.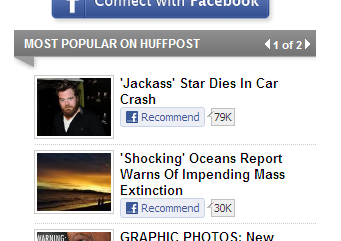 The most popular item yesterday was the death of Ryan Dunn, the Jackass guy who famously stashed a "car toy" in his butt. Second, is, you know, the likelihood of a mass extinction. Mass extinction is second.
What kind of signal does this send about the priorities of Huff Post's readership? So when you hear people gripe about Huff Post running puerile stories, bear in mind that they're doing so because people demand it -- by massive numbers.