Via Kevin Drum, here's a chart showing peak oil production throughout the world.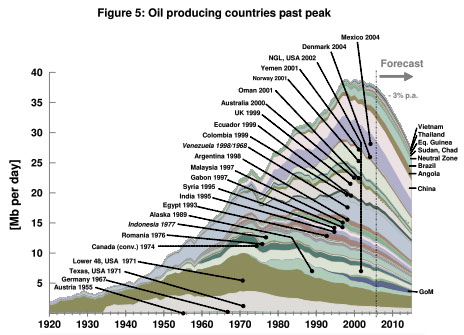 How an eventual decline in oil production will create mayhem with the world economy:
Global production of oil has hit a ceiling — or, at best, will grow very slowly for the next few years on its way to a ceiling in 2015 or 2020 or so — and this is going to cause severe volatility in the global economy. As world GDP grows, demand for oil increases and bumps up against the supply ceiling, prices spike upward, and the world goes into recession. Demand for oil then decreases a bit, the economy recovers, rinse and repeat.
The sooner we shitcan fossil fuels as an energy source, the sooner we'll be on the vanguard of an all new green energy economy.