via Smartypants
This is Moodys' projected electoral outcome for the 2012 election based on the improving economies of battleground states, current polling trends in those states, and the results of the 2008 election.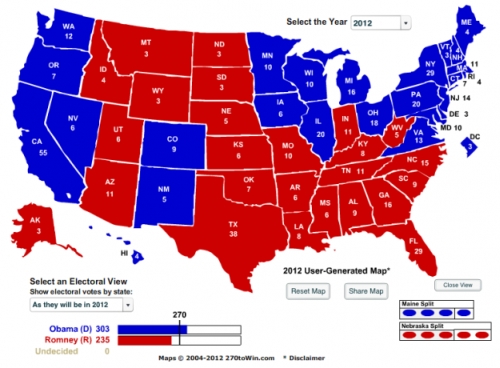 Nine states switched from supporting Republican President George W. Bush in 2004 to Democrat Obama in 2008. Leaving out Indiana, which both sides say is trending toward its Republican tradition, the remaining eight are again shaping up as the central election battleground.

Those eight states -- Colorado, Florida, Iowa, Nevada, New Mexico, North Carolina, Ohio and Virginia -- have a combined 101 electoral votes. Romney must win at least 79 of those electoral votes to prevail if all other states run true to their 2004 and 2008 partisan preferences.
And as Smarty points out, the president could even lose Ohio and still win the election. I find that hard to see happening, however.
This isn't a case for complacency, however in this election more than perhaps any previous election, it's more advisable to focus on the situation in electorally-crucial states rather than national polls which have been dubious at best.
Keep this in mind before lighting your hair on fire the next time a pollster assigns a heavy conservative weighting (which doesn't actually exist) to a poll to produce a desired result. A result that fits their narrative of an "all tied up" horse race.