No, really. This is both unintentionally hilarious and horrible.
via Media Matters
Right-wing news site The Daily Caller has come up with an innovative new method of attracting people to sign up for their email updates: Each week through Election Day new registrants will be eligible to win a free handgun. And not just any handgun; the weapon in question is "engraved with the Bill of Rights."

The gun's manufacturer, Jim Pontillo, has attacked American progressives for supposedly seeking to promote communism in America and claimed that "people calling for secession" are not "fanatics who hate America" but are instead acting "in the Founding tradition."

This ad is currently running on the website's NRA-sponsored "Guns and Gear" page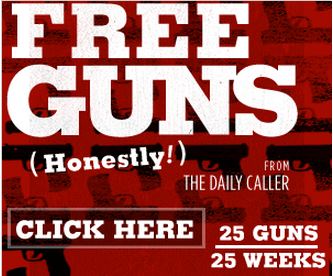 In exchange for signing up for Tucker Carlson's email newsletter, you'll be entered to win a free handgun, inscribed with the bill of rights, manufactured by a man who believes threatening to secede from the union is a "founding tradition." Yeehaw!
Of course these newsletters contain all manner of hyperbolic assertions and language designed to incite hatred for the government, so pairing that with a free "2nd amendment remedy" makes sense.