I wrote this a while back, but given the Romney platform of all tax cuts and no spending increases, here's what Moody's Analytics has to say about which option is a better return on investment.
FACT: Every dollar spent on the Bush tax cuts only creates $.32 in economic growth — that's a 68 cent loss on investment. Every dollar spent on making capital gains tax cuts permanent will only result in $.37 in economic growth -- a 63 cent loss on every dollar spent.
The old chart from Moody's: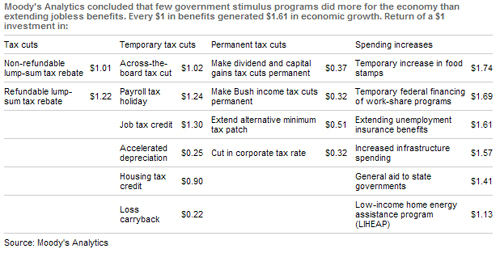 In other words, both tax cuts and government spending are deficit hogs. But only one of them actually stimulates economic growth and job creation. And it's not tax cuts.