Today has been a magnificent day for the Obama campaign and the millions of Americans who have been assured that they will have access to healthcare, but it's also been a day filled with astonishing failures among the media and the Right Wing.
For example, the earliest reports out of the Supreme Court today got it wrong.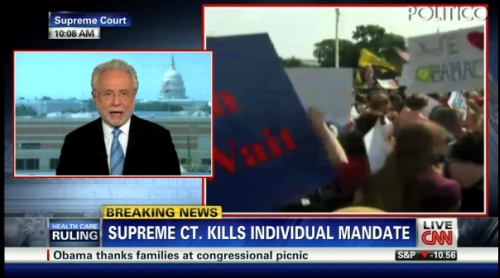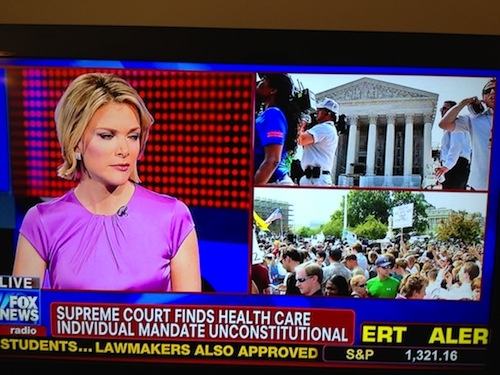 Screenshots via ThinkProgress, which also has a list of other news organizations that got it wrong including The Huffington Post, NPR, and Time.
According to Politico, these incorrect reports from CNN and Fox News actually lead President Obama to believe it had been overturned for a short time.
A bit crestfallen and anxious for more detail, Obama stood watching the four monitors in the outer Oval Office. A minute later, he was joined by White House counsel Kathryn Ruemmler, who flashed a double-thumbs-up and informed him the report was wrong. [...]

Obama was confused by the cognitive dissonance of what he was hearing from Ruemmler and what he was seeing on TV. For a few seconds, he gazed at the monitors quizzically, and eventually decided to trust his staff over CNN, according to a senior administration official.
Way to go, CNN! Home of the Worst Political Team on Television.
Additionally, today's ruling lead to some exceptionally unhinged commentary by the usual suspects on the Right
This from Breitbart.com's Ben Shapiro, who literally wrote the book on Sesame Street turning our children into gay socialists.

And this
Rep. Mike Pence (R-IN) reportedly compared the Supreme Court decision upholding President Obama's health care law to the September 11 attacks at a closed door GOP meeting on Thursday, several sources tell Politico.
And the crown jewel of shitty punditry, Fox News digial politics editor Chris Stirewalt offered this bit of insight
STIREWALT: I can sum it up this way: at the White House, it's a good day. The president's probably very happy that he was vindicated by the Supreme Court. But out in Chicago, at the president's campaign headquarters, this can not have been the happiest news. I'm sure, from a cynical political perspective, they much rather would have had this issue go away and the Supreme Court take it down so the president could go rally the troops. Instead, it's Romney's troops who are rallied.
Got that? This is bad news for Obama because it would have been better for his reelection chances if it had been declared unconstitutional.
For his part Rush Limbaugh also weighed in on today's events by calling Chief Justice John Roberts an "activist judge."
Today's ruling clearly caught the Right off-guard. They were expecting a slam dunk victory for their side.