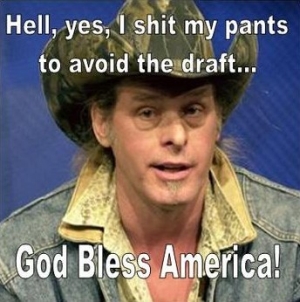 The swing vote of Justice Roberts to uphold Obamacare has pants-crapping draft-dodger Ted Nugent in a tizzy, and for some inexplicable reason, The Washington Times invited him to lament the North's civil war victory today.
via RightWingWatch
The bottom line is that Chief Justice Roberts' traitor vote will ensure more monumental spending and wasted taxes and put almost 15 percent of the nation's gross domestic product (GDP) under one of the world's most bureaucratic, ineffective, incompetent and grossly expensive systems ever devised by man: our out-of- control federal government. [...]

Because our legislative, judicial and executive branches of government hold the 10th Amendment in contempt, I'm beginning to wonder if it would have been best had the South won the Civil War. Our Founding Fathers' concept of limited government is dead.
It's common knowledge now that Nugent has almost no filter (he hasn't used the N-word, yet) and will gladly repeat whatever crap he reads at World Net Daily and Infowars, but in this instance I believe a dangerous number of Americans agree with him.
If you live in a southern state and have the means to relocate, I would encourage you to do so. Those who don't can live with the relative comfort of knowing that the federal government will establish health insurance exchanges in your state even if your elected officials refuse to.
You know, because "Fedzilla," as Nugent calls it, just wants to kill you by making healthcare more affordable.

Mitt Romney actively sought Nugent's endorsement during the Republican primary race, going as far as to make pledges to him, according to the Texas Tribune.
It was on a phone call with the candidate earlier today that Nugent gave his blessing. He talked to Romney by phone while he was at a sporting goods store in Michigan "celebrating the orgy of guns and ammos and bows and arrows and camouflage clothing and hunting and fishing and outdoor family supplies."

Before endorsing him, Nugent demanded that Romney pledge there would be no new gun laws or restrictions on Second Amendment rights in his administration. Romney obliged. Nugent also warned Romney about the "out of control" U.S. Fish & Wildlife Service.
By the way, it's painfully obvious when someone who is not-at-all intellectual tries to sound like they are.
(photo via Veterans Today)