Several days ago we discussed how one Louisiana charter school was forcing girls suspected of being pregnant to submit to pregnancy tests or be kicked out of school. The rule was challenged by the ACLU and the Delhi charter school has now backed down.
That's the good news.
The baffling news is they had no idea there was anything wrong with the policy, according to the school chairman.
NEW ORLEANS — A Louisiana charter school is changing a policy that kicked pregnant students out of class and required them to be home-schooled, the school's board chairman said Wednesday.

No one at Delhi Charter School in rural northeast Louisiana realized there was anything wrong with the policy until the American Civil Liberties Union's state chapter threatened to sue, said chairman Albert Christman. The policy has gotten "everybody up in a roar," he said. [...]

Louisiana Department of Education spokesman Barry Landry said he did not know the state's policies for pregnant students or whether they apply to private and religious schools getting tuition vouchers.
Oh. We're just forcing your daughters to undergo pregnancy tests and kicking them out if they refuse or if they test positive. You're telling me there's something wrong with that?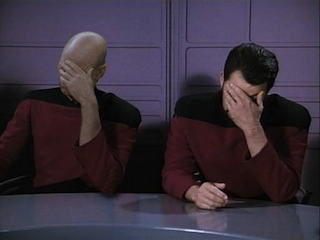 If the spokesman for the Louisiana Department of Education doesn't know what the state's policy is, why does he have that job?
Direct knowledge of the law should not be considered a prerequisite for determining the policy was wrong anyway. If not legally then morally. And for people who claim to adhere to traditional values, they don't seem to have any.
I'm a godless liberal heathen and where I come from invading someone else's life in this way is unthinkable.
According to the Delhi charter school chairman Albert Christman, only "a handful" of girls were kicked out because of the pregnancy test rule. That's one too many.
(ht @srjones66)