Here's Mitt Romney as he left the podium today with a big, arrogant smirk on his face.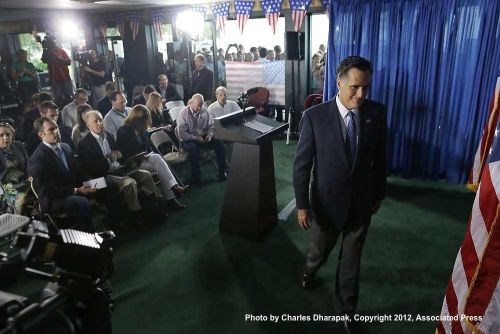 Mitt Romney was smirking because he just finished conducting a press conference during which he accused President Obama of sympathizing with the extremists who attacked the American embassy in Libya. Four Americans were killed in the attack including Ambassador Chris Stevens.
As early as 10 pm last night Secretary of State Clinton released a statement condemning the attack, but after the stroke of midnight last night, exactly one minute after the day of 9/11 concluded, Team Romney and RNC Chairman Reince Priebus unleashed a torrent of criticism and accused President Obama of apologizing for America and sympathizing with the attackers.
During his press conference today Mitt Romney claimed the president was apologizing for American values. And in this case "American Values" would seem to include the views of Florida Pastor Terry Jones who stoked violent protests outside of the U.S. Embassies in Libya and other countries by creating a rabidly anti-Muslim propaganda film.
What was considered to be a "shiny object" by the Romney campaign as recently as three days ago took center stage today as Mitt used the deaths of three Americans and a long-serving Ambassador to project the idea that President Obama is a secret-Muslim, terrorist sympathizer.
Given the apparent lack of effectiveness of Romney's welfare-for-nothing dog-whistle campaign, I suppose he considered a secret-Muslim, terrorist sympathizer campaign to be the next best thing.
Shades of "palling around with terrorists."
If memory serves me well, that didn't work out very well for the McCain campaign in 2008. How long will it be before another crazed supporter interrupts a Romney rally by shouting "he's a terrorist!"
Nothing Romney had to say in today's press conference represented reality and included more than a few blatant lies. And to their credit, many Republican pundits and analysts have a less than favorable view of Mitt's mendacity as well.