What does the rest of the world think of Mitt Romney?
The answer is not much.
A BBC World Service opinion poll has found sharply higher overseas approval ratings for US President Barack Obama than Republican challenger Mitt Romney.

An average of 50% favoured Mr Obama, with 9% for Mr Romney, in the survey of 21,797 people in 21 countries.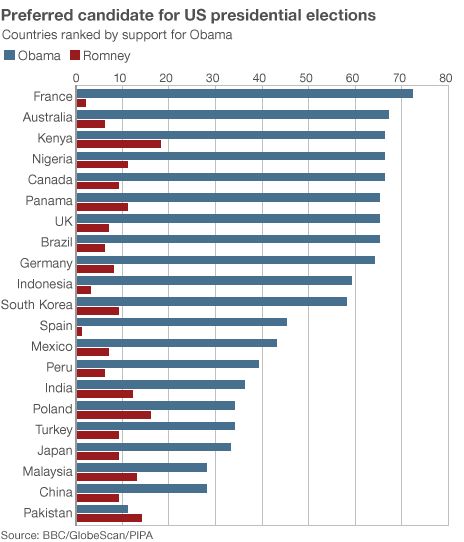 I suppose Romney can feel good about having the Pakistani vote all locked up.
By my estimation, Pakistan is the only country included in the survey that Romney hasn't insulted. His world embarrassment tour following the summer Olympics covered a number of them, others have been insulted by his contention that our trade deals with them do not exist, some have been insulted through racial animus, and the rest have been labeled socialists or currency manipulators.
Additionally, several countries included in the list have served as punching bags for Mitt Romney in stump speeches and his debate appearances.
And lets be real -- basing your campaign on American exceptionalism and "America is the best country in the world" is less than endearing. I'm an American and even I find it insufferable.
If Mitt Romney wins the presidency, he will enter office as possibly the most unfavorably viewed president in recent history. He's already established an extensive list of enemies and political foes before even entering office, for Pete's sake.