Someone at Romney HQ seemingly felt there was a need to reiterate that there is no daylight between Mitt Romney and racist assclown Donald Trump.
via ThinkProgress
Real estate mogul and ardent birther Donald Trump has been asked to stump for Mitt Romney in the final week before Election Day. Trump will be doing robo-calls in Ohio, North Carolina, Wisconsin, and Florida — crucial battleground states. The campaign also reportedly asked him to do campaign stops, which may conflict with the taping of his show, "Celebrity Apprentice."
From yesterday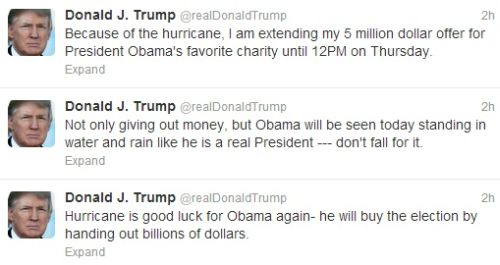 As you're probably aware, Trump is also a notorious birther who believes the president is a secret-Kenyan who got into college because of affirmative action. Trump is also such a good businessman that he's declared bankruptcy three times.
From August

It's obvious that Trump gets off on the attention, but for the purposes of tying him directly to Mitt Romney I'll oblige him for a few more days.