Here's the latest NASA photo of Hurricane Sandy taken today at around noon on the east coast. You can view the full size here (it's huge). The storm itself is over 900 miles wide.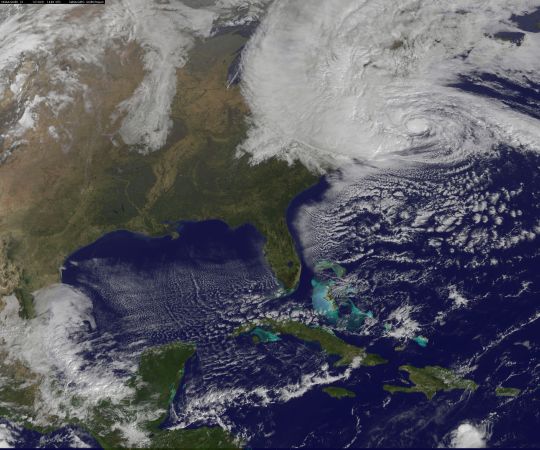 Here's a timelapse video of Sandy taken yesterday
And finally here's President Obama's remarks on the storm from today at 12:45 est
If aren't near a television you can watch a live stream of The Weather Channel here.
Sandy is currently on track to make landfall sometime in the next 2 to 3 hours, bringing a storm surge of 6 or more feet, as much or more than a foot of rain in some locations, and in the Appalachians it will bring between 1 to 3 feet of snow with whiteout conditions. The Great Lakes are also expected to see a signification rise in water level.
In other words -- ooga booga!
If you or someone you know is in the path of the storm, stay safe!