Out of everything said during last night's debate, what seems to be standing out more than anything else today is Romney's pledge to defund PBS even though he "likes Big Bird" and appreciates the service provided to him by debate moderator Jim Lehrer who works for PBS.
The president and CEO of PBS spoke out today and called the display "unbelievable."
"With the enormous problems facing our country, the fact that we are the focus is just unbelievable to me," Kerger told CNN, especially since both candidates emphasized their dedication to education.

"We're America's biggest classroom," Kerger added. "We touch children across the country."
Dr. Neil deGrasse Tyson put Romney's plan to defund PBS in perfect perspective last night.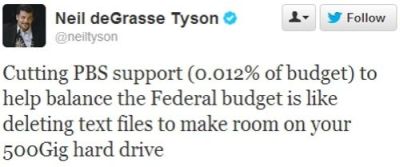 President Obama also hit Romney for his pledge today.
"Thank goodness somebody is finally getting tough on Big Bird. It's about time. We didn't know that Big Bird was driving the federal deficit, but that's what we heard last night.

How about that? Elmo too?"
As of this time PBS and Big Bird are both trending on Twitter while no other subject covered during last night's debate is.
According to Twitter Government there were 17,000 tweets per minute last night including Big Bird and PBS, and mentions of Big Bird on Facebook have grown 800,000 percent.