This was recently added to Romney's facebook page.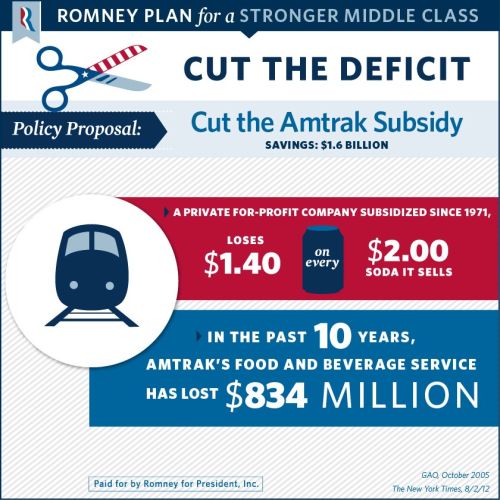 Apparently the way to promote a "stronger middle class" is to defund a convenient and efficient mode of transportation that millions of middle class people use every year.
As for cutting the deficit -- eliminating $1.6 billion from Amtrak won't amount to a hill of beans if Romney passes his $5 trillion tax cut.
And if you're suggesting we should charge more for soda to reduce the deficit, I'm going to make the charge that you aren't serious. Because that sounds like something the CEO of a restaurant chain would propose.
That's how Romney would govern, isn't it? America Inc.
By the way, if Amtrak actually has lost over $800 million over the last 10 years on food, that's still less than 1 percent of the cost of the Bush Tax Cuts over the same period of time.