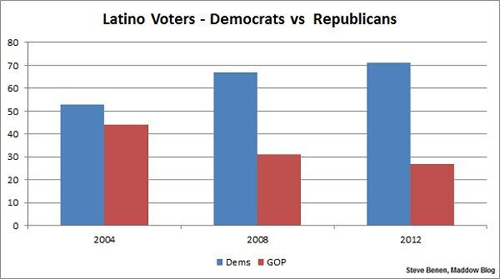 It's also worth noting that Catholics went for Obama 50-48, according to CNN, and Latino Catholics, in particular, supported the president by a margin of 3-1.
On that note... As an ex-Catholic, current agnostic and strong supporter of secular government, I've absolutely participated in the backlash against the religious right and its efforts to tear down the establishment clause. That said, perhaps now's a good time for liberals to stop brow-beating anyone and everyone of faith -- relentlessly hectoring them as idiots and children.
Sure, we ought to keep up the effort against the well-financed campaign to usurp secular law in favor of religious dogma, but to ensnare ordinary religious people in our crossfire is a huge mistake and will only undermine liberal progress.
Adding... The Republicans have marginalized themselves due to anger and intolerance. Let's not make the same mistake.