We survived the Mayan apocalypse. Also Mitt Romney, Donald Trump, Paul Ryan, Newt Gingrich, and Honey Boo Boo.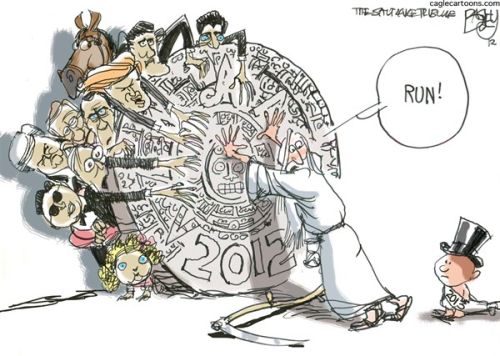 Artist - Pat Bagley
As predicted, the House failed to pass a relief funding bill for Hurricane Sandy victims last night.
The House also hasn't passed H.R. 8, the American Taxpayer Relief Act (the "fiscal cliff" deal) which passed the Senate last night by a margin of 89 to 8. House Republicans amended the bill to include more spending cuts and sent it back to the Senate.
Update... House Republicans canceled the amendment vote because they couldn't find enough votes to pass their own spending cuts. They will vote on the Senate bill tonight.
Update 2... The bill passed at approximately 11 p.m. by a margin of 257 to 167