via the Hartford Courant
State Rep. DebraLee Hovey, who represents Newtown and Monroe, posted this on her public FB page. From Florida. (Note: Hovey removed the post from her public Facebook page on Sunday afternoon).

Giffords visited local officials and Sandy Hook families Friday in meetings that were closed to the press.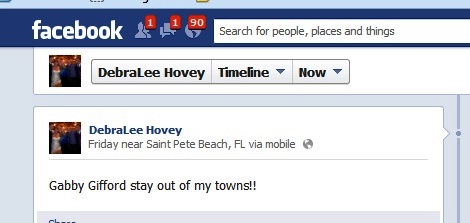 Shortly after Debralee Hovey (R) told Gabrielle Giffords to stay out of her town, she elaborated and accused the parties involved of playing politics even though Giffords is no longer a sitting representative.
Hovey has apparently apologized and made an empty claim that what she was really concerned about is the victims' families' well-being, to which I say apology not accepted.
(h/t TPM)