Representative Palazzo's district was rebuilt with big government money after Hurricane Katrina, but he voted against relief funding for Hurricane Sandy victims today.
Rep. Steven Palazzo (R-MS), whose Mississippi district is situated on the Gulf Coast, was one of 67 Republicans on Friday to vote against a $9.7 billion relief package to victims of Hurricane Sandy.

Mississippi's Fourth Congressional District, which Palazzo has represented since 2010, includes the city of Biloxi, one of the most heavily damaged communities in the region by Hurricane Katrina. Congress quickly passed an initial $10.5 billion relief package in the immediate aftermath of Katrina in September of 2005. Palazzo's predecessor, former Rep. Gene Taylor (D-MS), supported that legislation.
67 sad sacks (all Republicans) voted against the relief package today, and most of them were not directly impacted by the storm.
Here's a regional breakdown of the vote from the New York Times.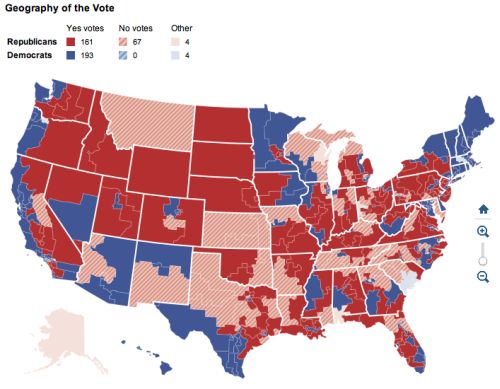 Among the No votes in Wisconsin was former vice presidential candidate Paul Ryan, who may or may not have been making up for his vote to pass the Taxpayer Relief Act (the "fiscal cliff" deal).
Ryan has embarked on a tour of wingnut radio to explain himself.