ter·ror·ism
1. the use of violence and threats to intimidate or coerce, especially for political purposes.
2. the state of fear and submission produced by terrorism or terrorization.
3. a terroristic method of governing or of resisting a government.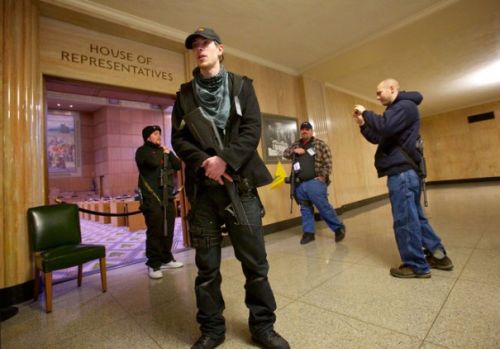 This is a photo of "pro-gun protestors" inside the Oregon state capital carrying their fully-loaded assault rifles right outside the House of Representatives. And they would tell you that they're just "exercising their rights" or practicing gun safety, or some other non-sequitur meant to legitimize what amounts to intimidation and, from my perspective, a threat of violence meant to coerce the state legislature.
I won't go as far as to say these men are terrorists (at least not yet) but I can't imagine members of the legislature would feel quite as comfortable carrying out their duty to protect ordinary citizens from gun fetishists knowing there is a pack of armed fetishists right outside their office.
And why else you do this if not to coerce the legislature with your gun? There are plenty of other locations where you could flaunt your penis replacement weapon that don't involve the creation of laws.
More photos here.