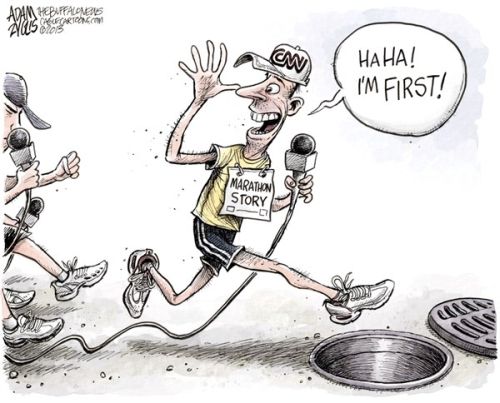 Artist – Adam Zyglis
In other news, Boy Scouts of America is considering allowing gay scouts to join the organization, but not gay scout leaders. The obvious implication is that they believe gay scout leaders are at risk of being pedophiles.
Classy.
I glanced at the cable news networks this weekend but I had to turn them off after a few minutes because ridiculous speculation is not what I consider to be news. And even though Dzhokhar Tsarnaev is reportedly sedated and unable to speak, every "expert" they can stick in front of a camera is convinced that he's a hardened Jihadist who was trained overseas.
Maybe they're right. Or maybe he was just a naive kid. "Othering" him by painting him as a radicalized foreigner (despite the fact that he's an American citizen) is a convenient way of packaging the story that allows viewers to look outward rather than inward and avoid recognizing that our own society is more than capable of breeding maniacs.