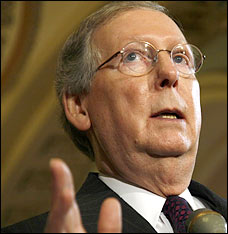 First he claimed his office had been illegally wiretapped. Then he altered his wording and said it was "bugged" by "leftist groups." Then he hired a private security company to sweep his office for bugs and they found nothing. And as of yesterday Mitch McConnell has declined to share any details of the FBI's investigation into the recording of his conversation with staffers concerning Ashley Judd.
Regardless of who recorded the conversation, the contents of it are undeniably ugly and may even be evidence of illegal activity conducted by McConnell's office.
Now, according to Talking Points Memo, Mitch McConnell is the one who could face an investigation.
The Citizens for Responsibility and Ethics in Washington (CREW) filed complaints with the FBI and the Senate Select Committee on Ethics on Thursday, calling on officials to investigate whether Senate Minority Leader Mitch McConnell (R-KY) violated federal law by using Senate staff and/or resources to conduct opposition research against actress Ashley Judd, a former prospective candidate in Kentucky's Senate race.

"Using taxpayer-funded resources to pay staffers to dig up dirt on political opponents isn't just an ethics violation, it's a federal crime," CREW Executive Director Melanie Sloan said in a statement. [...]

CREW cites two aides employed by McConnell's Senate office who appeared to be present during the February meeting at the senior senator's campaign headquarters in Kentucky, Phil Maxson and Josh Holmes.
Being a realist I don't expect this to actually amount to anything. That's Mitch McConnell's privilege. But he sure has made a very shitty bed to sleep in.