This photograph used by Drudge today to pressure Chris Christie into selecting a hard-right conservative to temporarily fill the shoes of Senator Frank Lautenberg is exactly why I don't believe it matters who he chooses as far as Christie's political future is concerned.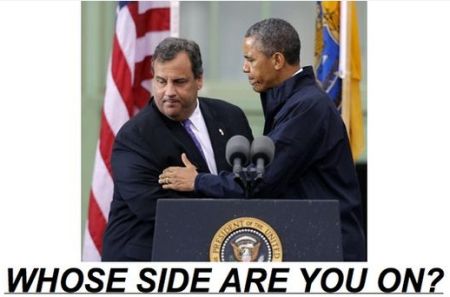 Even if Christie appoints a red meat-tossing conservative, this photograph and others like it guarantee that a certain segment of the Republican party will never trust him and never support him again.
Agree with him or not (I disagree with him on most matters of policy), choosing to praise and host the president as boisterously as he has means his future as a national figure for the Republican party is dubious at best. He could appoint Glenn Beck and it wouldn't make a difference. There will always be Hurricane Sandy.
I'm not going to praise Christie for how well he has worked with the president because that is how it should be. There should be an expected level of decorum and cooperation when your constituents need it most, but not everyone sees it that way.
That should tell you something about the maturity level of a not-insignificant portion of the electorate.
(H/T TPM)