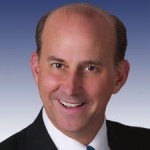 Although New Jersey Governor Chris Christie has now appointed a Republican replacement to temporarily fill the shoes of the late Democratic Senator Frank Lautenberg, Representative Louie Gohmert (R-TX) opined this week that Christie may not appoint a Republican because he may be more concerned with maintaining his "bromance" with President Obama.
Gohmert turns the homophobic innuendo up to 11 beginning at 0:35
Gohmert: Think about it, if he had just up and appointed a Republican replacement as he's authorized to do, do you think the bromance would continue? Do you think the President will come let him win little toys for him and stuffed animals down at the fair? I mean good grief. You're asking too much. It's just too much to not want to have that kind of bromance continue. [...]

We're known by our friends. I think Machiavelli pointed that out. Do you think he would ever get another hug out on the beach from the President?
Christie has appointed New Jersey Attorney General Jeffrey Chiesa, a Republican and his former chief counsel, to temporarily fill the vacant Senate seat until a special election is held in October.
And I suppose this means the bromance will come to an end. No more "hug outs" on the beach. And certainly no more of this whole acting-in-the-best-interest-of-your-constituents thing.