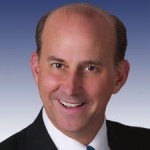 The perennially amusing Representative Louie Gohmert took today's Supreme Court rulings on DOMA and Proposition 8 about as well as you would expect him to.
During a press conference following the release of the Supreme Court's decision, Gohmert played the role of Doomsayer and prophesied that today will mark the beginning of the end of civilization as we know it. Which is odd, because I thought that time had already come on January 20, 2009.
Gohmert: Apparently they've been very cloistered, they were not aware, that the most wise man in history, Solomon, said there's nothing new under the sun and [gay marriage] isn't new and it's been tried over and over and it's usually tried at the end of a great civilization.

Just in closing I would remind you of the document that allowed the United States to claim its independence and be free as recognized by England, the treaty of Paris 1783. And if you will look at that document you will see big bold letters at the very top. Because put yourself in the place of the Americans. What would you make Britain swear under that they would be so afraid to go back on their word? What would you make them swear under that document that required England to recognize our independence?

What our founders came up with were these words; In the name of the most holy and undivided trinity. That's why it started that way and they did not believe that even the adversaries in war would have the nerve to go against that.

What we now have is a holy quintet [the supreme court] that goes against the laws of nature and nature is god. And that's very unfortunate.
You know who else swore an oath with their hand on the bible? The president who, last time I checked in with Gohmert, has profound sympathy for the Muslim Brotherhood and may or may not be a time-traveling alien from Mars.
In all seriousness — the rationale Gohmert uses for condemning today's decision on DOMA, that it violates God's word, is exactly why we have a separation of church and state and why the constitution is not read or interpreted as a religious document.
Today may mark the beginning of the end of civilization for Louie Gohmert, but it marks the beginning of the beginning for millions of other Americans who have been subjected to discrimination based on their sexual orientation.
No word on what impact today's ruling will have on Gohmert's asparagus.