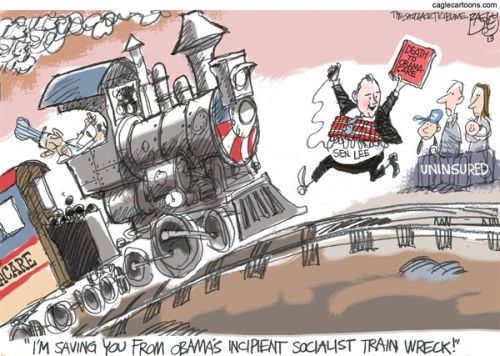 There's a problem with Senator Mike Lee's plan to mount the Republican's last stand at the Alamo where they will hold the government hostage and demand that we defund Obamacare ahead of its implementation in early 2014.
According to the Congressional Research Service, implementation of Obamacare will continue as planned even if the Republicans do manage to shut the government down.
You can read a summary of the report here where it has been circulated by Senator Tom Coburn. It's one hit right after another against the idea that conservatives can get what they want by holding the government hostage.
"Substantial" Obamacare Implementation Would Continue In a Shutdown
"It appears that substantial ACA implementation might continue during a lapse in annual appropriations that resulted in a temporary government shutdown for two reasons. The first is that the federal government will be able to rely on sources of funding other than annual discretionary appropriations to support implementation activities, including multiple-year and no-year discretionary funds still available for obligation as well as mandatory funds…..The HHS shutdown contingency plan that was prepared in anticipation of a possible government shutdown in FY2012 indicated that ACA implementation activities at CMS would continue because of the mandatory funding provided in the law."

Obamacare's Exchanges Would Not Be Dismantled in a Government Shutdown
"Yes, other sources of funding besides annual discretionary appropriations are available in FY2014 and beyond to support exchange operations…..The HHS Secretary currently is using funding from ACA and other sources to establish the federally facilitated exchanges and related information technology (i.e., data services hub) and to engage in consumer outreach and education. ACA also provided the Secretary with an indefinite annual appropriation to award exchange planning and establishment grants to states through 2014. Each year, the Secretary determines the amount of funding that will be made available to states through this grant program. Beginning in 2015, exchanges must be self-sustaining."
It's curious that members of the establishment are so eager to discourage their more insane colleagues from holding the government hostage. The only explanation I can come up with is they're afraid the Flying Monkey Caucus may have the power to do it. And according to the Congressional Research Service, they will have nothing to show for it if they do.
Here's the full CRS report.