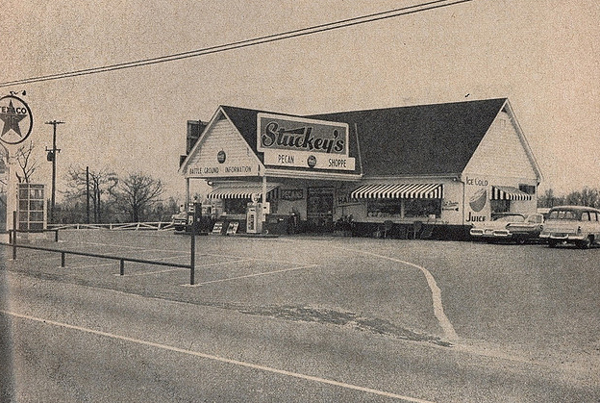 As we advance into the 150th anniversary of Gettysburg: Day Two, it's important to note what's happened to the battlefield during those subsequent years. Specifically, the commercialization of the battle has transformed much of the battlefield's "hallowed ground" into tourist attractions and fast food restaurants.
The photo above is of a Stuckey's restaurant that was located in the infamous Peach Orchard where some of the bloodiest fighting occurred on Day Two. It was rightfully torn down years ago, but other egregiously-placed commercial buildings remain. There's the "General Lee's Headquarters" motel, complete with a garish swimming pool, on a section of battlefield from Day One. There's a place called "General Pickett's Buffet," along with a McDonald's and a Friendly's restaurant on the Pickett's Charge battlefield from Day Three.
Only recently have various organizations stepped forward to purchase some of these properties and to subsequently donate them back to the National Park Service. But a considerable chunk of the battlefield has been irreparably festooned with eyesores and hideous sprawl.
And this is the most visited battlefield in North America. Other battlefields aren't so lucky. Wilderness and Chancellorsville in Virginia are rapidly being chewed up by development. Manassas is surrounded by mini-malls, shopping centers and subdivisions. Cold Harbor and Petersburg, too. Other battlefields, especially in the western theater, are even worse off. The Franklin battlefield in Tennessee didn't even exist until a preservation group recently purchased a Pizza Hut located on the battlefield, destroyed it and restored a small tract of land.
Yes, there will always be progress and development. But clearly we're not creative enough or respectful enough of our history to build around these sites. Instead, everything must go. It's a tragic disregard for historical events that not only shaped America, but are responsible for America existing in the first place.
If you're so inclined, think about supporting the Civil War Trust and these land preservation groups.