To say that the Oath Keepers are a "coalition of current and former military, police, and other public officials" may be somewhat accurate, but that hardly tells the whole story.
A coalition of current and former military, police, and other public officials place huge pro-Snowden ad in Metro http://t.co/zcqTb0IBJ3

— Glenn Greenwald (@ggreenwald) September 11, 2013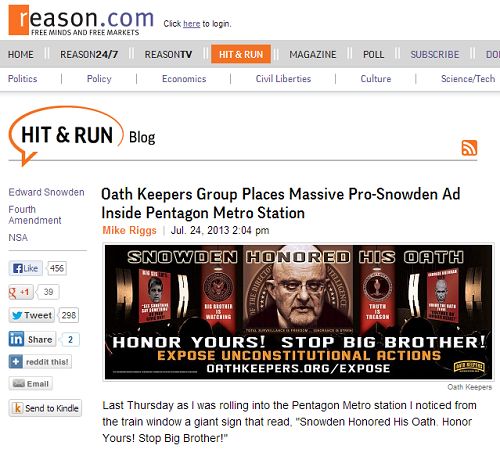 Tweets aren't necessarily endorsements, however in this case I think its safe to assume that it is given the subject matter. They're pro-Snowden, after all.
Either Greenwald isn't aware of who the Oath Keepers are, or he is and approves of their message.
To barely scratch the surface, the Oath Keepers are a right wing, libertarian militia that believes wild conspiracies about the president, the U.N., gun control, and FEMA concentration camps.
Here's the Southern Poverty Law Center's latest report on an Oath Keepers rally held barely three months ago in July.
There will be a workshop on colloidal silver — a substance that many on the radical right believe is a cure for all kinds of ailments that the government has kept secret from the people. In fact, the substance has no known medical use and, if used with the frequency that some radicals do, turns human skin blue.

There will be seminars on Agenda 21, a United Nations sustainability plan that has no legal enforcement mechanisms or requirements, but that the radical right is convinced is a secret plot to impose socialism on the United States.

There will be representatives from the John Birch Society — a primary proponent of the Agenda 21 conspiracy theory, the idea that fluoridation of water is a Communist plot, and the charge that President Dwight D. Eisenhower was a Communist agent. Also scheduled to attend are Sheriff Richard Mack, a long-time darling of the antigovernment "Patriot" movement who has been encouraging county sheriffs to resist federal gun laws, and Chuck Baldwin, a far-right pastor and "constitutionalist" who moved to Montana several years ago to battle the incursions of the federal government.

Also featured will be training sessions on hand-to hand combat, nighttime military patrols, survival firearms, and preparation of "bug-out bags" — all of these an obvious reflection of the radical right's obsessive fear that the government is about to move against the American people, seizing their guns and ending liberty.
While the Oath Keepers deny that they have any connections to him, former Pennsylvania Police Chief Mark Kessler sometimes wore Oath Keepers clothing while filming himself shooting targets which he referred to as Pelosi (as in Nancy Pelosi, the Democratic House Minority Leader).
It's not a surprise that they are prepared to turn Snowden into a hero, and I suppose it shouldn't be a surprise that Greenwald will promote them for doing so. What is surprising, or at least revealing, is that he did so today.
The obvious rebuttal will be that agreeing with some of their views does not mean you agree with all of their views, but I consider that to be a cop-out. And in the case of the Oath Keepers, you would be endorsing one view out of a thousand bad ones. It's a tacit endorsement.
On the other hand, maybe Greenwald agrees that President Obama is going to usurp your liberty by taking away your guns and opening the door to non-existent U.N. armies who will throw you in a FEMA camp under Agenda 21. Only he can clarify that. It is a slippery slope from claiming the U.S. government is watching every single thing you say and do, including those explicit sexts, to saying they will implement a plot to end all liberty.
Since Greenwald chose to promote the Oath Keepers for running pro-Snowden ads on today of all days, even though the story he linked to was published in July, I should point out that the Oath Keepers are also 9/11 truthers.
The founder of the Oath Keepers, Stewart Rhodes, is a former aide to Ron Paul and has made numerous appearances at Ron Paul's website and Alex Jones' InfoWars.
Not coincidentally, the Oath Keepers were founded in March of 2009 shortly after President Obama took office.