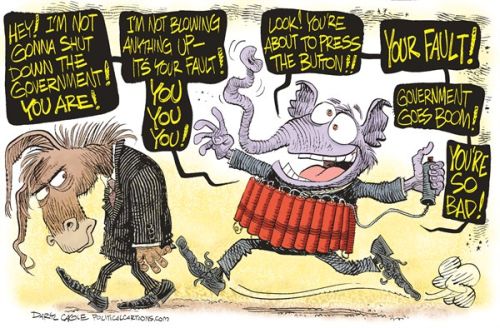 Artist – Daryl Cagle
Most of you are already aware of what a government shutdown would mean for the economy, but for those who aren't here's a brief reminder.
Moody's Analytics founder Mark Zandi testified last Wednesday that the timing of this budget fight means it would be more damaging than the Clinton-era shutdown. A three- to four-week shutdown "would do significant economic damage, reducing real GDP by 1.4 percentage points," Zandi told the Joint Economic Committee last week, and a two-month shutdown "would likely precipitate another recession."
Meanwhile, if you're looking for a laugh tonight, try this:
Stand with conservatives against #McConnellCare. #KYSEN pic.twitter.com/lt7saRwlzp

— Matt Bevin (@MattBevin) September 24, 2013
McConnellCare!