Remember what I said the other day about mainstream publications and the publishing of rape apologia?
Here's Richard Cohen of The Washington Post to back me up.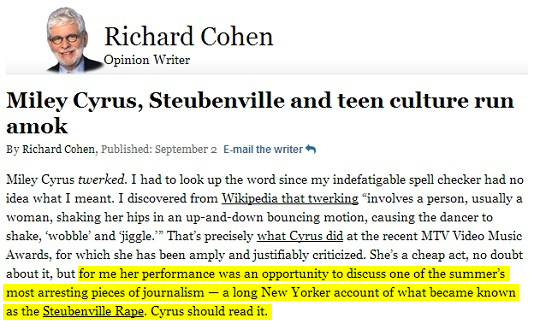 Presumably, Cohen is here to explain why Miley Cyrus shouldn't twerk and how twerking leads to becoming a victim of rape.
That would be ridiculous enough, but along the way he makes the case that the Steubenville rape wasn't a real rape.
The first thing you should know about the so-called Steubenville Rape is that this was not a rape involving intercourse. The next thing you should know is that there weren't many young men involved — just two were convicted. The next thing you should know is that just about everything you do know about the case from TV and the Internet was wrong. One medium fed the other, a vicious circle of rumor, innuendo and just plain lies. It made for marvelous television.
The so-called rape.
The New Yorker piece was done by Ariel Levy, a gifted writer. When I finished her story, I felt somewhat disconcerted — unhappily immersed in a teenage culture that was stupid, dirty and so incredibly and obliviously misogynistic that I felt like a visitor to a foreign country. That country, such as it is, exists on the Internet — in e-mails and tweets and Facebook, which formed itself into a digital lynch mob that demanded the arrest of the innocent for a crime — gang rape — that had not been committed. It also turned the victim into a reviled public figure, her name and picture (passed out, drunk) available with a Google query.
According to Richard Cohen, the boys who were shot on video, seen in photographs, witnessed by numerous peers, arrested, tried, and convicted were innocent! And, worst of all, the photographic evidence that a rape had been committed turned the victim into a "reviled public figure," never mind that it also lead to the conviction of her rapists.
The existence of Google and public knowledge of the story is a clearly bad thing because society obviously can't handle treating the victim with respect. And the answer to this, I assume, is to simply not talk about the case or prosecute the rapists using photographic evidence. Because if we just sweep it under the rug, the victim won't have to become reviled. And everyone's happy, right?
What Cohen does not mention is that there never would have been a trial without the accompanying public outrage. It took a literal march of digital vigilantes in Guy Fawkes masks to convince authorities to prosecute the case. And this public outrage was spurned on by the existence of the video and photographs that Cohen wishes didn't exist.
But, wait, what the hell does this have to do with Miley Cyrus twerking?

I've read this entire column several times and I still don't know how you go from Point A (Miley Cyrus twerking) to Point B (the Steubenville Rape) to Point C (twerking causes rape) or how Point A could even be seen as a starting-off point for a discussion of "so-called" rape.
In either case, Richard Cohen is blaming the victim. Because if young women and girls would stop dancing suggestively thereby debasing teen culture, they wouldn't become victims of rape. It's all their fault. Because the boy seen in the video saying "they raped her harder than that cop raped Marsellus Wallace in "Pulp Fiction.". . . She is so raped right now," wouldn't have said that if his culture hadn't been debased by twerking and dirty teen temptresses.
And at his most get-off-my-lawn moment, Cohen blames The Google and cellphones for turning victims of rape into reviled public figures, not the misogynistic rape culture he claims to abhor
Youtube and twerking didn't turn the Steubenville rapists into misogynistic cavemen, but that is a convenient explanation that fits nicely into Cohen's limited worldview.
The last time Richard Cohen was in the news, it was because he blamed hoodies and "Barry Obama" for perpetuating racist stigma. He's on a roll.