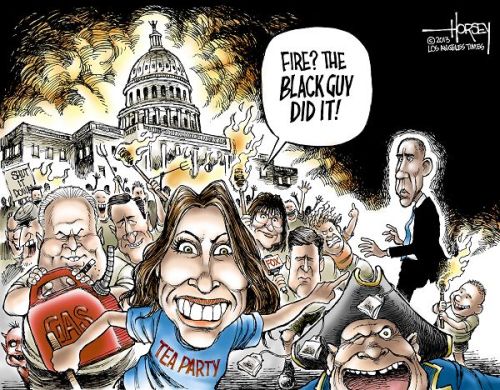 Artist – David Horsey
In other news, interest rates on short-term Treasury bills with a maturity of 30, 60, or 90 days began spiking today as we look poised for default.
Meanwhile, a school official has been arrested in relation to the Steubenville, Ohio rape case from earlier this year. William Rhinaman, the Director of Technology at Steubenville High School, allegedly tried to cover up the crime.
I stopped discussing the story of Steubenville here on the blog some time ago, and now I regret doing so. Columns have been published at a wide range of publications over the last several months, including sites like Jezebel, that downplayed the responsibility or apologized for local officials and authority figures who took some of the blame after the incident. Those columns angered me, perhaps because I grew up in a town that just easily could have been Stuebenville and I know how things work in such a town, but I didn't say anything and I should have.
Yesterday's arrest shows that some local officials absolutely deserved some of the blame, and this may not be the last arrest. Credit to Ohio Attorney General Mike DeWine for following through on their investigation.