We've already established than Congress has a lower approval rating that hemorrhoids and dog poop, but the Republican party itself is also bottoming out according to the latest Gallup poll.
WASHINGTON, D.C. — With the Republican-controlled House of Representatives engaged in a tense, government-shuttering budgetary standoff against a Democratic president and Senate, the Republican Party is now viewed favorably by 28% of Americans, down from 38% in September. This is the lowest favorable rating measured for either party since Gallup began asking this question in 1992.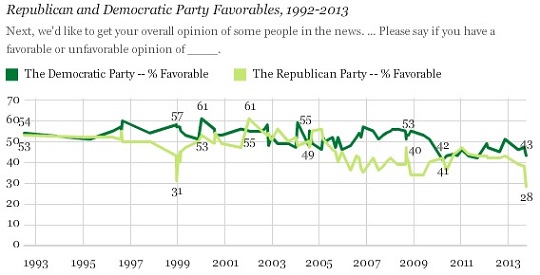 The last time Republicans were anywhere close to being this unpopular they had just finished impeaching President Bill Clinton over a blowjob. Even the worst moments of the Iraq War don't come close.