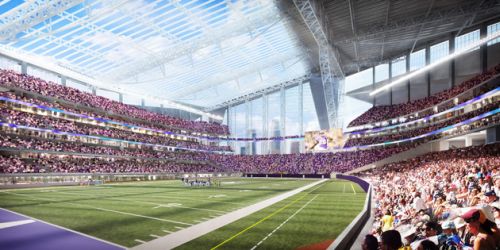 While other officials in Minnesota are scrambling to pay for a new stadium for the Vikings football team, Minnesota State Representative Pat Garofalo (R) is very upset because there won't be any gun stores at the new stadium.
"This provision was never included in the Metrodome lease, was not included in the new Vikings stadium legislation and was not identified as an issue or a problem that needed to be addressed prior to this agreement," said Garofalo, a Farmington Republican, in a letter to the Minnesota Sports Facilities Authority, which signed the lease and a development agreement with the Vikings last week.

He questioned why law-abiding businesses would be excluded from the new facility in downtown Minneapolis and wondered if the provision would prohibit hunting and outdoors events from taking place at the new stadium.
Why would you need a gun store at a football stadium? Can anyone tell me? I really have no idea.
I'm sure the new stadium will be very nice, but as you might imagine organizers are already falling short of the funds they need and construction hasn't even begun yet.