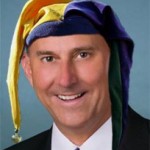 Congress has passed, and President Obama has signed, a bill that will pay members of the military during the government shutdown, but apparently Representative Louie Gohmert (R-TX) was previously unaware of this.
I can imagine that it would be difficult to keep track of what the big kids are doing while you're busy eating paste.
In House GOP meeting, Gohmert pushed for military pay bill in conf. committee; Boehner replied: 'Louie, that bill has already been signed'

— Russell Berman (@russellberman) October 1, 2013
He knows not what he does.