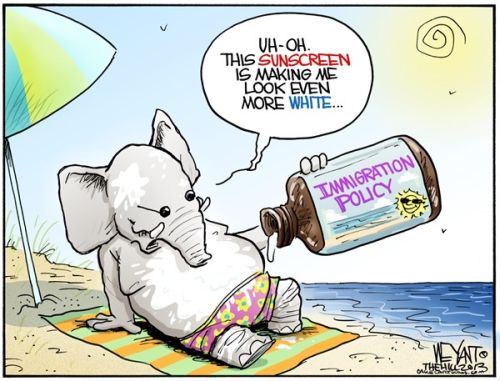 Marco Rubio has been soul-searching for months, looking for an excuse to write off immigration reform for good. Now it looks like he's found what he was looking for.
It's Obama's fault, of course.
"I think immigration reform is harder to achieve today than it was three weeks ago because of what happened here." [...]

"The president has undermined this effort, absolutely, because of the way he has behaved over the last three weeks," Rubio added. "This notion that they're going to get in a room and negotiate a deal with the president on immigration is much more difficult to do…because of the way the president has behaved towards his opponents over the last three weeks."
What Rubio is really saying is that it's clear the president will not sign an immigration reform bill that focuses solely on border security and nothing else which, in his mind, is equivalent to the president refusing to cut domestic programs in exchange for averting financial collapse during the GOP Government Shutdown.
The president refused to negotiate for a basic level of governmental competence and congressional obligation, and the chances of him negotiating away key provision in an immigration reform bill are even slimmer considering that the Republicans do not have global financial catastrophe to use as leverage. There are no potential hostages.
The comprehensive reform bill Rubio originally supported, the one that was passed by the Senate, included a heaping pile of Border Security along with a path to citizenship, but he would like you to forget all of that.
The window of opportunity when congress could have passed comprehensive immigration reform has closed and the GOP's primary mission over the next several years will be to try, and fail, to blame Democrats for it.
Regardless of how they try to frame it, they can't escape the apparent racism of refusing to treat immigrants as equal human beings for no credible reason. People who want to become Americans, and those who already see themselves as Americans.