An enormous cut to the Supplemental Nutritional Assistance Program (SNAP) will come into effect on Friday, November 1st, and the reason why may astonish you.
According to a new report from the Center on Budget and Policy Priorities, nearly 1 million veterans will be among the 48 million who will experience a benefit cut as of Friday.
The reason the program will see a reduction on that day is because that part of the 2009 American Recovery and Reinvestment Act (the stimulus) is set to expire.
The 2009 Recovery Act temporarily raised SNAP benefits as a form of effective economic stimulus and to reduce the hardship that low-income families faced during the recession. This benefit increase is set to expire on November 1. The coming benefit cut will reduce SNAP benefits, which are already modest, for all households by 7 percent on average, or about $10 per person per month. Without the Recovery Act's boost, SNAP benefits in fiscal year 2014 will average less than $1.40 per person per meal. This is a serious cut, especially considering that over 80 percent of SNAP participants live in poverty.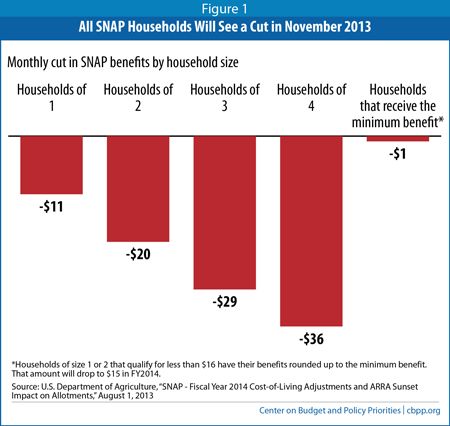 As you may recall, Congress still hasn't passed a comprehensive farm bill, however the House has passed a bill that cuts another $40 billion from SNAP over the next 10 years. Because House Republicans really, really hate poor people.
If SNAP is cut by $40 billion over the next 10 years, that will kick 3.8 million people off the rolls in 2014 and an additional 3 million people every single year until fiscal 2024 according to the Center on Budget and Policy Priorities.
Beyond the obvious, this will also hit retailers who sell food to SNAP recipients. The damage will not stop at the water's edge.
To frame this as a $40 billion cut to the nation's grocers would not be inaccurate.
Not that it needs to be said, but that was some damn good stimulus.