Organizers of the Million Veterans March would like to make it clear that they are not affiliated with those who organized a gathering of secessionist radicals outside the White House yesterday.
In a post on their Facebook page, organizers of the movement said one local organizer 'hijacked the narrative for political gain.'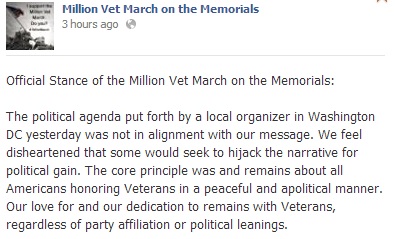 This wouldn't be the first time the Tea Party hijacked someone else's message and twisted it for their own purpose.
After all, the original Tea Party was a protest against tax cuts for the British East India Company, the largest corporation in the world at the time.
Hijacking someone else's message is par for the course for the modern movement which I will remind you began as an astroturf group that gained notoriety for wanting to "tea bag" politicians for passing the American Recovery and Reinvestment Act (the stimulus).