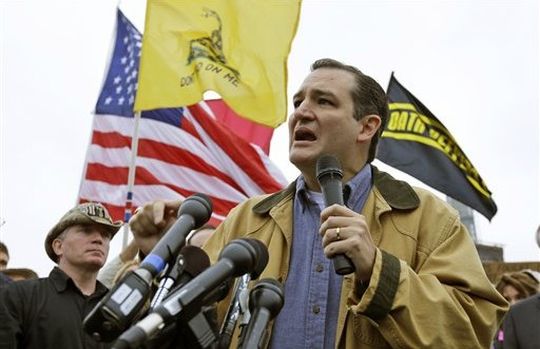 Now that we're approaching zero hour and Senator Ted Cruz will be presented with his last opportunity to cancel the socialist apocalypse, Cruz has announced that he will not filibuster the Senate bill to avert a default and reopen the federal government.
"I have no objections to the timing and the reason is simple. There's nothing to be gained from delaying this vote one day or two days. The outcome will be the same. Every senator, every member of the House is gonna have to make a decision where he or she stands, but there's no benefit. I've never had any intention of delaying the timing of this vote."
While Cruz's 21 hour rendition of Dumb and Dumber wasn't a real filibuster, it did have the effect of delaying a vote prior to the government shutdown. But now that he has a chance to perform a real filibuster, he claims that he "never had any intention" of delaying a vote.
It's not that I wish he would or that I'm encouraging him to do so, this is just a clear display that he's all bark and no bite.
And what has he accomplished? The Republicans get almost nothing out of today's deal, and for their trouble their poll numbers have nosedived into the toilet to historically bad levels.
Cruz is such an embarrassment, Texas newspapers are now beginning to recant their endorsements.
"When we endorsed Ted Cruz in last November's general election, we did so with many reservations and at least one specific recommendation — that he follow Hutchison's example in his conduct as a senator. Obviously, he has not done so. Cruz has been part of the problem in specific situations where Hutchison would have been part of the solution."