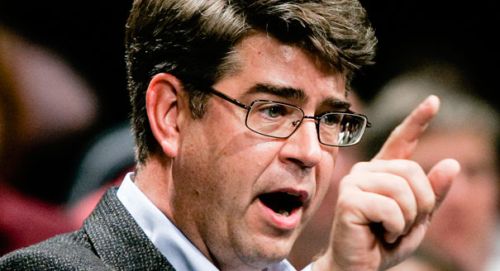 Who else is adamant about keeping their paycheck? Representative Lee Terry (R-NE).
When asked if he would keep his paycheck, he said "dang straight." And that's not all.
What about the other members who were donating or forgoing their pay?

"Whatever gets them good press," Terry said. "That's all that it's going to be. God bless them. But you know what? I've got a nice house and a kid in college, and I'll tell you we cannot handle it. Giving our paycheck away when you still worked and earned it? That's just not going to fly."
Oh. Well, shit. He worked and he earned it. He has a nice house and a kid in college. Giving up his paycheck voluntarily isn't going to fly.
I suppose the federal employees that Rep. Lee Terry and his colleagues have put out of a job or out of pay didn't earn it. And I'm sure none of them have homes or kids in school either, right? They aren't real people and those aren't real jobs.
Rep. Renee Ellmers (R-NC), who said yesterday that the "bottom line" is that she needs her paycheck, apparently wasn't being completely honest because today she changed her mind and decided to have her paycheck withheld. And just in case you forgot, Ellmers would like to remind you that this is Obama's fault.
Honestly I'm reaching the outer limits of snark and professionalism. These people will suck your brain straight out of your eye-sockets with their rage-inducing hubris and ignorance.
(photo via AP)