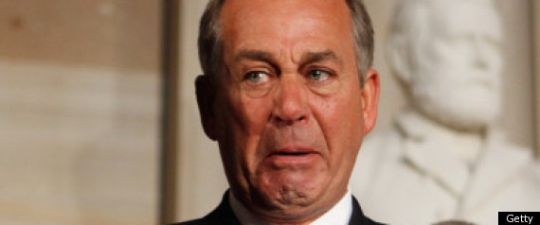 Speaker of the House John Boehner said today that a bill that prevents people from being fired from their jobs will actually kill jobs. Or something. via The Hill
A spokesman said Boehner (R-Ohio) does not support the Employment Non-Discrimination Act (ENDA) because it would be bad for the economy.

"The Speaker believes this legislation will increase frivolous litigation and cost American jobs, especially small business jobs," said Boehner spokesman Michael Steel.
If you think about this for more than five seconds, you'll realize it's ridiculous.
The Employment Non-Discrimination Act (ENDA) is designed to keep people in their jobs. It won't "cost American jobs." It will preserve American jobs because employers won't be able to fire you for being lesbian, gay, bisexual, or transgender.
Furthermore, claiming that this will lead to "frivolous litigation" is akin to blaming the victim. It's also a quasi admission of guilt and an implication that average people may lie about their sexual orientation if they're fired for other reasons.
White House press secretary Jay Carney rightfully ridiculed Boehner's statement.
Carney said the reasoning behind Boehner's opposition "sounds familiar to the opposition to all civil rights measures" in the nation's history.

"That opposition was wrong then and is wrong now," Carney said.
If the Senate passes the ENDA and House Republicans kill it, they will be locked into a distinctly anti-gay position for the foreseeable future.
I wouldn't be surprised if Republicans pull tort reform out of their ass and say they'll allow a vote on the ENDA if we also ban lawsuits.