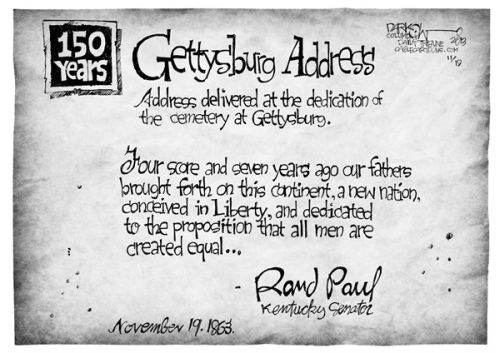 Artist – John Darkow
A who's who list of conservatives groups have had their homes and offices raided in connection with an investigation into recall elections in Wisconsin. These groups include, but are not limited to, Wisconsin Family Action, Americans for Prosperity, American Crossroads, Friends of Scott Walker, and the Republican Governors Association.
It still isn't clear what is being investigated, however it appears to concern possible collusion between supposedly independent groups.
Meanwhile, I found this Deadspin report on the Braves' new stadium in suburban Atlanta to be very enlightening, particularly this part.
One person standing to gain is State Rep. Earl Ehrhart, a partner in a nearby sports complex under construction. Ehrhart, perhaps coincidentally, is the one who first put the Braves and the county commissioner together to start talking stadium deal.
Apparently a number of real estate deals were finalized before the new stadium was announced, suggesting that inside information was being passed around. And that's just one act in this shitshow. Read the rest.