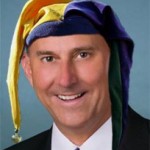 What has The Gohmert been up to lately? Apparently he's back to sniffing glue.
Did President Obama create a security security force that obeys his commands when he signed Obamacare into law? Of course not, but Representative Gohmert Pyle is far more skeptical than you or I.
Gohmert wants to know if members of the Public Health Service Commissioned Corps, which trains emergency response teams, are training to use guns or syringes. He'd also like to know if this has any connection to the Department of Homeland Security stockpiling ammunition.
via RightWingWatch
Janet Mefferd spoke with Rep. Louie Gohmert (R-TX) on Friday about a Department of Homeland Security solicitation for a security contractor "at various locations throughout the states of Minnesota and Wisconsin." While Gohmert said he didn't know much about it, he claimed that the health care reform law may be creating a security force no one knows about. [...]

The congressman, for his part, wondered about "the provisions in [Obamacare] for the President's own Commissioned and non-Commissioned Officer Corps," speculating that these officers could be deployed in non-health related emergencies. "Are they using weapons to train or are they being taught to use syringes and health care items?" he asked. [...]

Gohmert said that he would investigate the "secret security force" in Minnesota and Wisconsin, adding the caveat that he wouldn't mind it if it was "something that's going to protect the borders."
As long as the secret brownshirt security force is being used to keep the ever-intimidating Canadians at bay, Louie Gohmert is fine with it.
Not that it needs to be said, but DHS is not stockpiling ammunition for the president's secret Obamacare army of IRS agent usurpers who will destroy the doctor patient relationship and probably apple pie and America once and for all. Did I leave anything out?
I imagine we'll get the results of Louie Gohmert's investigation around the time we get the results of Donald Trump's birther investigation. Are Trump's investigators still in Hawaii?