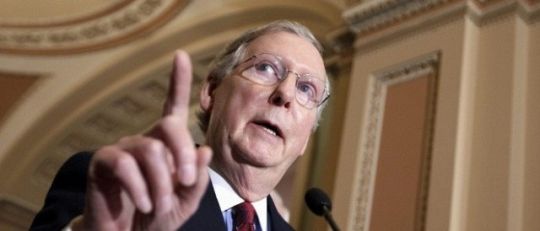 You may have heard that Obamacare has been a big success in the state of Kentucky, and while that's undoubtedly good news, Kentucky senator and Senate Minority Leader Mitch McConnell (R) is not impressed.
During his weekly press briefing, McConnell admitted that Obamacare has been a success in Kentucky, but that's only because people in his home state love Free Stuff™ and Handouts™
MCCONNELL: "Well, 85 percent of the people who've signed up in Kentucky have signed up for Medicaid. That's free health care. If you want to give out free health care you're going to have a lot of interest. Just like free anything else. There've also been, if you look at the statistics today, I believe I'm correct, about 270,000 cancellations of policies that people already had. So I know there's been a great effort on the part of the administration and the governor of Kentucky to paint a pretty picture. The rollout is quite mixed — quite mixed — and largely people signing up for Medicaid. Free health care."
Free. Free. Free. Did I mention Free? Free healthcare! Free "anything else!"
Clearly it would be news to McConnell to learn that Medicaid isn't actually free and that very few people who are currently enrolled in Medicaid have done so by choice.
They may have lost their jobs or they may actually have a job and they work at Wal-Mart or Fast Food.
Is Mitch McConnell accusing Wal-Mart of loving free health care? He may have a point.