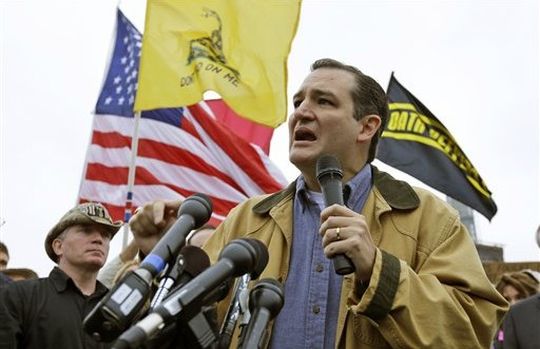 Senator Ted Cruz talks a big game. He even compared some of his fellow Republicans to Nazi appeasers prior to the government shutdown, and throughout the shutdown he continually undermined their efforts to end it. But now that it's time to put his money where his mouth is, he's nowhere to be found.
Cruz reportedly said that he will not help the Senate Conservatives Fund primary the Republicans who he personally compared to Nazi appeasers.
At a closed-door lunch meeting of Senate Republicans Wednesday, the freshman conservative told his colleagues that he would not intervene in their 2014 primary fights or fundraise for the controversial outside group. Cruz added that the SCF's decision to try to defeat sitting GOP senators in their primaries was its alone, according to several people familiar with the session.
Does this mean Cruz doesn't consider Nazi appeasers to be a big enough threat to warrant replacing?
The takeaway, at least for moderate Republicans, is that they should not listen to Ted Cruz ever again. He's all bark and no bite.
Let's not forget that Cruz also chose not to perform a real filibuster after weeks of attacking those who wouldn't commit to one.