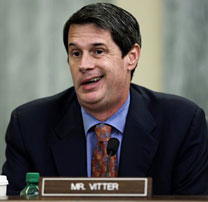 Vitter Da Shitter has proposed an amendment to the Employment Non-Discrimination Act (ENDA) that would ban "sex-selective abortion."
Vitter wants a vote on his proposed ban on sex-selective abortions as part of the amendment process for the LGBT workplace discrimination bill, according to Democratic and Republican aides, though the legislation has nothing to do with abortion. The Louisiana Republican first introduced his bill, the Prenatal Nondiscrimination Act, in June 2012.
I probably don't need to tell to you, but "sex-selective abortion" is a myth. This is a solution in search of a problem and merely another feather in the cap for enlistees in the War on Women.
I said that I wouldn't be shocked if Republicans will agree to passing the ENDA if we also pass tort reform and ban lawsuits but, in hindsight, that may have been setting the bar too low.