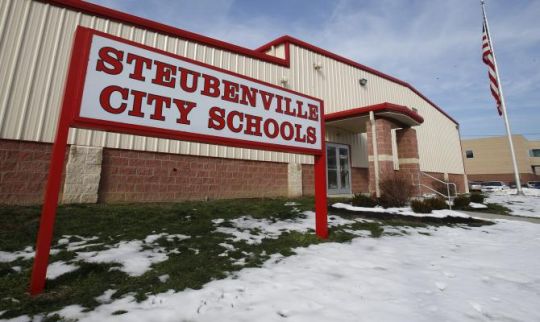 Suspicions and accusations have been confirmed today as four more people were charged with various crimes, including obstruction of justice and tampering with evidence, relating to the infamous Steubenville rape case. And these aren't average individuals; they're persons who occupy significant positions of authority in a small town like Steubenville.
In a news conference on Monday morning, DeWine explained that four additional adults are now facing similar charges. In addition to the superintendent, an elementary school principal, a wrestling coach, and a volunteer football coach were also charged — the first two for failing to report child abuse, and the last for facilitating the underage drinking and delinquency of a minor. The high school's beloved head coach, who was accused of telling football players that he would protect the two rapists from any repercussions, is not facing any consequences from the grand jury.
The school superintendent, Michael McVey, has been charged with one count of tampering with evidence and two counts of obstruction of justice alongside making a false statement and obstructing official business.
As you may recall, the school's director of technology, William Rhinaman, was arrested last month for tampering with evidence, obstruction of justice, obstructing official business, and perjury.
This brings the total to five adults in positions of authority who had a hand in facilitating or covering up that night's events.
Beyond what they were charged for, these people are also responsible for facilitating and preserving rape culture for their own ends. The school officials clearly didn't want the rape prosecuted because they knew it would look bad for their athletic programs and thus their own careers.
Repeat — they saw the evidence themselves and rather than report the rape of a young girl, they chose to cover it up so the school wouldn't look bad.
And just to make it clear; Ohio Attorney General Mike DeWine left little room for doubt for what the implications of these charges are when he made a statement today.
"All of us, no matter where we live, owe it to each other to be better neighbors, classmates, friends, citizens. We must treat rape and sexual assault as the serious crime of violence that is," DeWine noted. "When it's investigated, everyone has an obligation to help find the truth — not hide the truth, not tamper with the truth, not obstruct the trust, and not destroy the truth."
I doubt these will be the last charges filed as DeWine insists, and it would seem that there are more than enough grounds for a whole host of civil lawsuits.
If America is lucky this will serve as a cautionary tale to other town officials across the country who have almost certainly engaged in similar behavior.