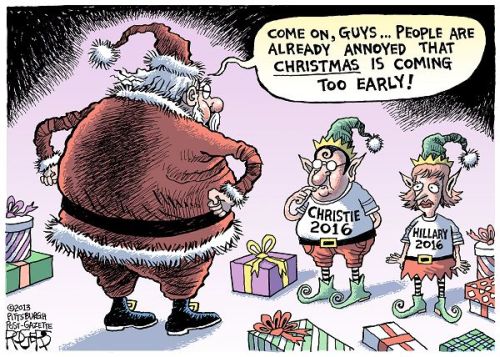 Artist – Rob Rogers
Senator Ted Cruz has a very busy weekend planned.
Warren Throckmorton reports that Cruz is scheduled to speak at David Barton's "ProFamily Legislators Conference" along with effusive conspiracy thoerist Glenn Beck, master voter suppressor and now Family Research Council bigwig Ken Blackwell, FRC vice president and radical anti-Islam activist General Jerry Boykin, and anti-gay, anti-Islam activist Rabbi Daniel Lapin. [...]

Cruz is also set to join Rep. Louie Gohmert at "David Horowitz's Restoration Weekend," along with Horowitz's fellow anti-Islam activists Pamela Geller, Robert Spencer, Erick Stakelbeck and Daniel Pipes; right-wing pundits Ann Coulter and Ben Shapiro; "voter fraud" truther Catherine Engelbrecht ; erstwhile Christian Coalition leader and Jack Abramoff pal Ralph Reed; prankster/martyr James O'Keefe; and rising right-wing star Dr. Ben Carson.
I've heard that those who will clean up after this gathering of the minds will be required to have a HAZMAT license.