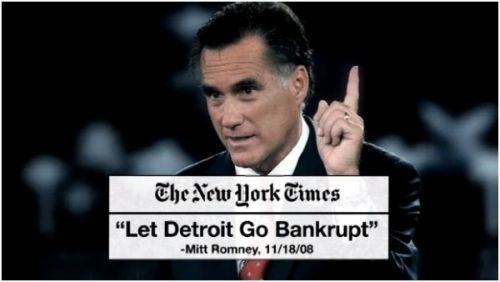 It's a good thing we didn't Let Detroit Go Bankrupt as Mitt Romney once advised.
According to the Center for Automotive Research, the U.S. bailout of the auto industry was the most successful economic intervention in our nation's history.
In a new study, CAR says the government will likely end up with a loss of $11.8 billion on the $50 billion it pumped into GM. But CAR also estimates that saving GM alone saved 1.2 million jobs in 2009 and an additional 674,000 in 2010. If the automaker had shut down in January 2009, when it was pleading for government help, hundreds of suppliers would have done the same, CAR notes.

The loss of those jobs would have taken $79.5 billion in personal income out of the U.S. economy in 2009, and $49.7 billion in 2010. The government would also have lost billions in lower social security receipts and lower person income tax revenue, and had higher spending for transfer payments.
We've heard most of this before, but the CAR goes as far as to say that, had we not bailed out Detroit, the entire Midwest would have entered into a "depression era" economy.
The U.S. government sold its last remaining stock in GM today. The federal government is no longer a GM shareholder.
General Motors North America President Mark Reuss says the bailout allowed tens of thousands of people to "put food on the table," which makes him some kind of diabolical socialist I guess.