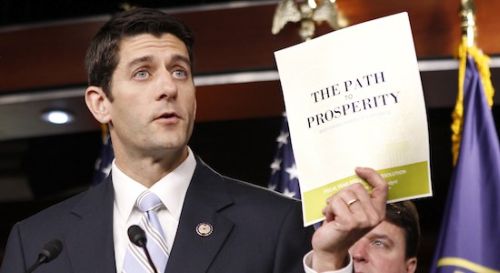 Congress may be on the verge of passing a budget deal that will prevent a government shutdown for the foreseeable future, however House Republicans haven't given up hope on extorting concessions in exchange for raising the debt ceiling.
"We don't want nothing out of this debt limit," Ryan said on "Fox News Sunday." "We are going to decide what it is we can accomplish out of this debt-limit fight." [...]

"One step at a time," Ryan said. "Patty Murray and I knew we weren't going to solve every problem, like the debt limit problem."

House and Senate Republicans will discuss their debt-limit strategy at separate party retreats in January, Ryan said.
They don't want to get nothing out of it.
To put it another way; they don't view preserving the faith and credit of the United States and preventing an economic catastrophe as something. That's nothing to them.
White House press secretary Jay Carney said today that there will be no negotiations over the debt ceiling, and I believe him. I do not, however, share his skepticism over whether or not the Republicans will actually go through with this. I believe they will because they need something to demagogue now that healthcare.gov is no longer a vulnerable target.