When you think of imitation websites, you probably think of phishing scams, shady hackers, or fraudulent investor schemes, but in California it's the state Republican Party that has been caught red handed.
From the LA Times
The device chosen by the Assembly's GOP caucus is a website at the address coveringcaliforniahealthcareca.com. If that sounds suspiciously like coveredca.com, which is the real website for the California insurance exchange, it may not be a coincidence. Bogus insurance websites have sprung up all over, aiming to steer consumers away from legitimate enrollment services. Just a couple of weeks ago California Atty. Gen. Kamala Harris shut down 10 bogus insurance sites, some of them with names very similar to the real thing. She must have overlooked the GOP's entry. [...]

Finding a link there to the Covered California website, which after all is the main place residents can go to obtain insurance in the individual market, is a chore — there isn't a link to it at all on the GOP page.

Instead, you're offered links labeled "I already have health insurance," "I don't have health insurance," or "I'm an employer." The second link, which presumably covers most residents looking for help through the act, leads to a page dominated by a calculator for the penalties imposed for not buying insurance — not exactly what you need if you're already looking for insurance.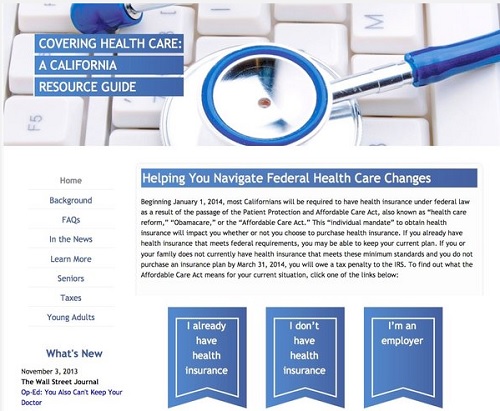 As the Times points out, this website was created by the GOP caucus, meaning state taxpayers paid for this sham website.
The state party altered the website two hours after the Times published their report to place a direct link to the state's official exchange on the front page. That appears to be the only thing that has changed.