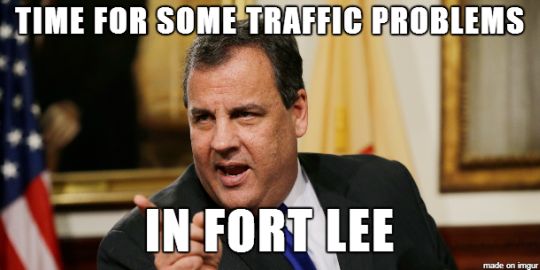 Now that it has become clear New Jersey Governor Chris Christie was somehow involved in the unnecessary closure of the George Washington Bridge, the New Jersey Star-Ledger now believes that Christie may, in fact, be a dishonest bully.
His attempts to laugh this off now appear to be dishonest, though we can't yet be sure that he personally knew about the correspondence of one of his top aides. Still, Christie bears responsibility either way. If it turns out he did know, he is obviously lying and unfit for office — let alone a 2016 presidential run.

And even if he did not, his officials are liars. If Christie can't control them, how can we trust him as a potential future leader of our country?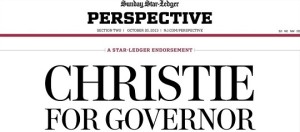 The Star-Ledger editorial board is absolutely correct in this case, but they asked for this.
I've been over this before, but I'm going over it again because this is a pristine example of how worthless much of our news media in this country is.
The Star-Ledger endorsed Chris Christie last fall despite their own assessment that he is terrible.
The property tax burden has grown sharply on his watch. He is hostile to low-income families, raising their tax burden and sabotaging efforts to build affordable housing. He's been a catastrophe on the environment, draining $1 billion from clean energy funds and calling a cease-fire in the state's fight against climate change.

The governor's claim to have fixed the state's budget is fraudulent. New Jersey's credit rating has dropped during his term, reflecting Wall Street's judgment that he has dug the hole even deeper. He has no plan to finance transit projects and open space purchases now that he has nearly drained the dedicated funds he inherited from Gov. Jon Corzine.

His ego is entertaining, but it's done damage as well. By removing two qualified justices from the Supreme Court without good cause, he threatened the independence of judges at all levels, and provoked a partisan stalemate that has left two vacant seats on the high court. This was a power grab gone wrong.
The editorial board just couldn't get excited about Christie's opponent so they endorsed a man who, by their own assessment, was a fraud.
I'm not implying that the election would have necessarily turned out differently had the Star-Ledger chosen not to endorse Christie, but sometimes if it looks like a duck and quacks like a duck, it probably is a duck.
I don't believe this scandal will doom Chris Christie's inevitable bid for higher office, but it should. It won't because editorial boards like the Star-Ledger exist.